rilo kiley 4/28/2005 - SOMA san diego
It's a little surprising to see a band, so well designed for stardom, still flying well below the radar. They took the stage on a Thursday night at a crowded, but not sold-out, Soma. Which is really too bad, since those of us at the show were perhaps seeing the band on their last tour before fame truly strikes. Now this is all conjecture of course, but their momentum is building. Soon after this show, they head to The Coachella Music Festival, for maximum hipster exposure. A pivotal date with Coldplay in the near future should also up their profile.
Their live shows only add to their appeal. Front woman Jenny Lewis is a rare sight in an 'indie rock' scene dominated by male emo-shoe-gazers and bed-head rockers in girl jeans. She is charismatic, aggressive, and most importantly, a communicator. Her words refreshingly change the perspective on all the lyrical topics we have become so used to. Remember emo-dudes, girls get broken hearts too. And just like you, they can feel jealously, rage, confusion, and bitterness. Plus, they can get pregnant! Try singing about THAT,
Mr. Kasher.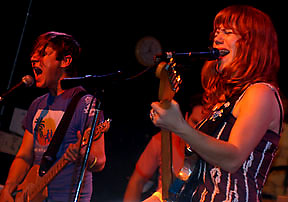 The audience had obviously come to see Jenny, as the many cries of
"Jenny, you fucking rock"
and
"I love you Jenny"
were repeated between almost every song. And what great songs they were. At this juncture in their career, Rilo Kiley benefits from having an impressive back catalog of material to choose from (3 albums, multiple EP's). There was something for every fan that night. There were the virgin newbies, such as myself, who needed our
More Adventurous
fix. This was satisfied with the inclusion of songs like 'It's A Hit', 'Portions For Foxes', and 'Does He Love You'. Then you have the veterans of the Rilo Kiley mystique who longed for older gems, like 'Execution of All Things', 'So Long', 'Hail To Whatever...', and 'Wires and Waves'. And they had a few rare tracks to throw at the true super fans, like 'Sword', 'Somebody Else's Clothes', and a Jenny Lewis solo performance.
The main set closed with an inspired rendition of 'Portions For Foxes', and the four-song encore ended with an equally stirring performance of 'A Better Son/Daughter'. The dialogue between songs was minimal but heartfelt; mostly supplied by guitarist Blake Sennet. Of course, you'll always have your disappointed fans. Like the five people mixed throughout the audience who called for 'The Frug' to be played between nearly every song. That song was not played, leaving those fans to 'Frug' later on in the parking lot, no doubt.
The opening acts were barely worth writing about. When I arrived, there was a solo acoustic guitar player strumming away on-stage. He seemed to perform the same song three times in a row. Maybe he was doing Autumn Defense covers. Maybe he was boring. Soon after, some young American men in suits (the 88's) took to the stage. Once the first power chord was struck, they suddenly became British in style and delivery. During their painfully long set, they channeled bad Oasis and even worse Costello. Their music forced me outside to socialize.
My only other complaint of the evening revolves around Blake Sennet. I'm probably alone in my criticism, but his actions did distract me throughout the night. For those of you wondering which member Blake is, he's the one who looks like the lovechild of Conor Oberst and Crispin Glover. And his past relationship with Jenny, combined with his overblown stage antics, remind me of Fleetwood Mac's Lindsey Buckingham. I have no problem with attempts at guitar heroics and Hendrix-esque flair, as long as the context is appropriate.
The strengths of Rilo Kiley however, lie in tight musicianship, thoughtful lyrics, and most importantly: Jenny Lewis. Whenever it was Blake's turn to sing, I'd suddenly become less interested. He has a fine voice, but for better of for worse, I was here to see Jenny. And his guitar-god noisemaking and guitar throwing seemed a bit staged and attention starved. I can't help but feel that he has 'front man(woman) envy'. That said, I'm probably being a paranoid, picky bastard. Regardless, the show was great, and they have made me a Rilo Kiley convert. Now if they had only played 'The Frug'... ^_^