the only 'problem' is that you're not listening...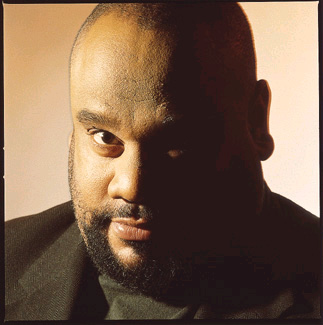 Children of 'indie land', please take note. Look at your clothes and look at your hair and ask yourself, what is true independent music? Take a week (hopefully longer) and learn some lessons from the music of Mr. Mark Stewart. Or should I say, just Stew. Formally the singer, songwriter, and all-around 'Svengali' of LA-based pop-pranksters,
The Negro Problem
, Stew has prospered in the wake of an acclaimed solo career. Currently, his screenplay
We Can See Today
(co-written with long time collaborator Heidi Rodewald) has been accepted into the esteemed Sundance Institute's 2005 Director's Lab. This comes following the successful run of Stew's theatre piece,
Passing Strange
.
Along the way he's gathered repeated critical praise from such publications as
Mojo
,
LA Weekly
,
Entertainment Weekly
(his first two solo albums have both been included among the magazine's picks for 'album of the year'),
All Music Guide
, and
The New York Times
. He played the Meltdown Festival in London, on a roster that included such legends as Queen (
sorta
) and David Bowie. He also toured with Love (featuring Arthur Lee), and opened for The Counting Crows and Live during the west coast leg of their joint tour.
But what about the music you ask? I first went to see The Negro Problem back in the winter of 1997. They were playing at Java Joe's in Ocean Beach, a locally famous coffee joint that spawned Jewel (and fired her as its waitress). They were playing in support of their debut album,
'Post Minstrel Syndrome'
, which had been reviewed by the local paper, receiving four stars. Obviously, between the glowing review and the shocking band name, I had to investigate.
While the opening act, Cockeyed Ghost, plowed through their pop-power set, I noticed Stew and hiding in the back of the coffee house. Although he was nursing a cold, he was immediately friendly, and allowed for an autograph. He was actually surprised by the copy of
Guitar World
I produced that carried an article on his band. According to the article, the band was catchy and full of potential…that is of course if:
1)
Their highbrow pop could find an audience.
2)
If they would change their controversial and confrontational name.
Well, the band found an audience and never did change its name. One person in that audience was myself, and what I found was the perfect pop band. Unfairly catch songs, meaningful and challenging lyrics, harmonies, wit and humor, and humble but supremely professional playing. Their sound channeled an array of styles and artists, from Burt Bacharach and Jimmy Webb, to Syd Barrett, Sly Stone and XTC. Stew performed like some wild-eyed street prophet, as the band shifted from new wave grooves to progressive moods. I immediately purchased their album, which stayed in my CD player for two straight weeks.
I went on to see The Negro Problem (or Stew solo) perform a total five times. Along the way I purchased the next two TNP albums, as well as Stew's solo CD's. Coupled with
'Post Minstrel Syndrome'
, Stew's second solo disc,
'The Naked Dutch Painter'
, should be required listening for anyone doing a survey of 21 century music. It's hard to find something truly original, and perhaps that concept doesn't really exist. But this artist is about the closest I've come in my search. And his talents refuse to be pigeonholed, as he moves seamlessly from bandleader to solo troubadour to playwright to screenwriter. Do yourself a favor and see past the band name (define irony, people) and taste something special. People like this are cultural treasures. Also, please be on the lookout for a new documentary on Stew's career called:
What's The Problem
, directed by Jeffery Winograd.
For further investigations, please visit these sites:
Stew's official website -
http://negroproblem.com/
Documentary website with trailer -
www.stewfilm.com